Create Discussion in Ultra Course
From the Course Content page click on Discussions and then click on the + symbol.

You can add discussions for everyone or ask students to participate in group discussions. You can also make discussions count for a grade.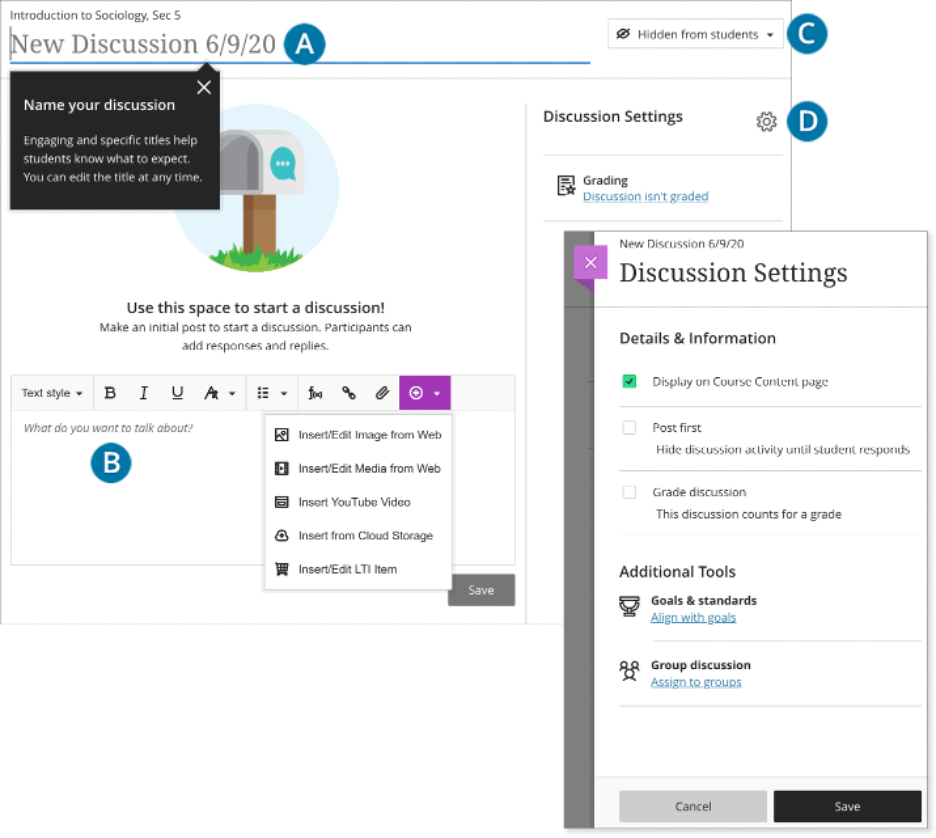 A) Type a meaningful title to help students find the right discussion. If you don't add a title, "New Discussion" and the date appear as the title for you and your students.
B) Include guidelines and expectations. You can use the options in the editor to format text, attach files, and embed multimedia.
To use your keyboard to jump to the editor toolbar, press ALT + F10. On a Mac, press Fn + ALT + F10. Use the arrow keys to select an option, such as a numbered list.
C) Show or hide the discussion. New discussions are hidden by default. Students can't see a discussion until you choose to show it. You can create all your content ahead of time and choose what you want students to see based on your schedule. You can also set availability conditions based on date, time, and performance on other items in the course gradebook.
D) Select discussion options. Select the Discussion Settings icon to open a panel with options for your discussion:
Include the discussion with other content items. Select Display on the Course Content page to include the discussion on the Course Content page.
Encourage original ideas. Some students may rely too much on the thoughts of others when they draft responses. Hidden responses and replies can help students cultivate their own ideas on your initial discussion topic. Select Post first to hide discussion activity from students until they respond to the discussion. When you want to use both post first and groups, select Post first before you assign groups.
Grade the discussion. To motivate students to post insightful contributions, you can make the discussion count for a grade. When you choose to grade a discussion, more options appear such as the due date and maximum points. The maximum points apply to one or more posts made by a student. When you enable grading for a discussion, a column is created automatically in the gradebook.
Align goals with the discussion. You and your institution can use goals to measure student achievement across programs and curriculums. When you create a discussion, you can align one or multiple goals. Select Align with goals to search for available goals. After you make the discussion visible, students can view the goals so they know your expectations.
Discussions created by students
When you allow students to create discussions, their titles appear with the label Created by student on the main Discussions page. You can rearrange the student discussions so that they all appear together or move them to a folder.
When course members open a discussion, the author is listed in the side panel.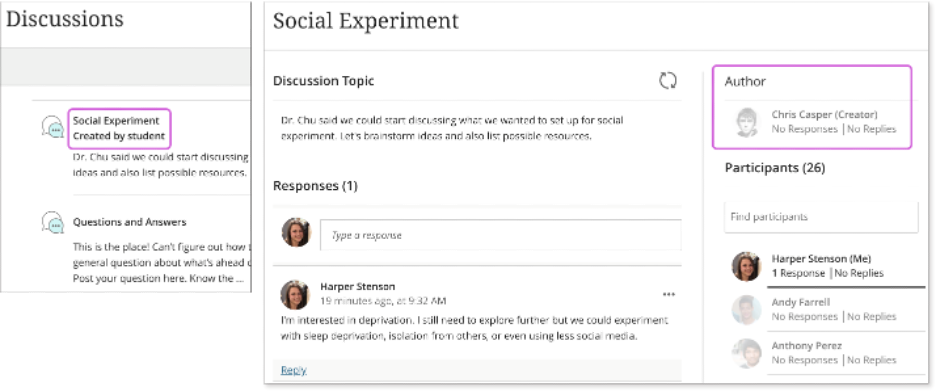 Students may edit or delete their own posts and may delete their own discussions if no one has responded.